© 1999 Louise Levergneux, My Memories Of My Memories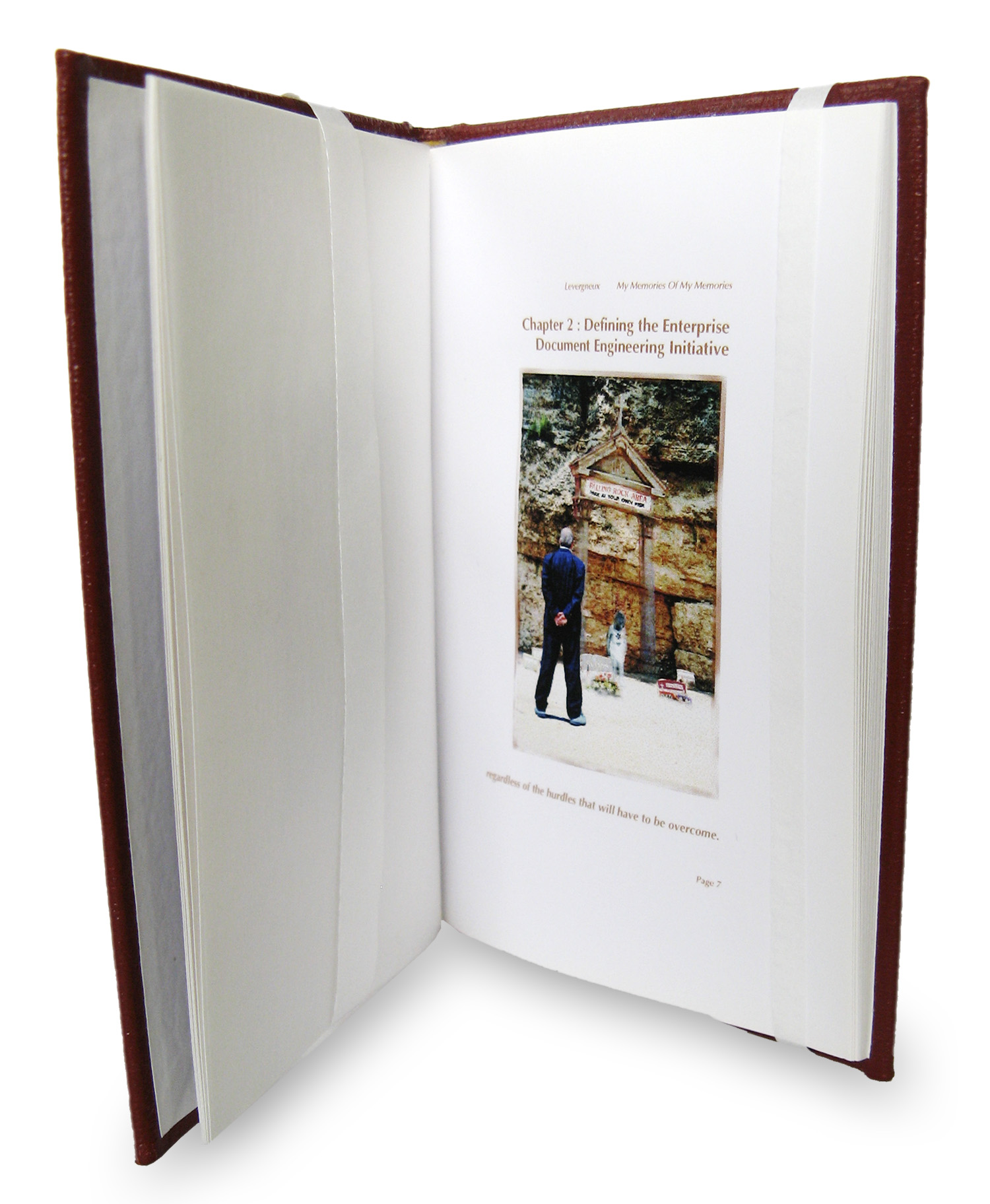 My Memories of My Memories is a collection portraying a suite of personal family images that help trigger people's memories of childhood. The miniature version brings a childhood memory of keeping small treasures in our pockets and keeping them for rainy days. The large-format one-of-a-kind makes grown adults feel very small in front of its size and resembles a family album.
hard cover case-binding in simulated red leather and simulated gold lettering

inkjet prints on Epson Photo paper; translucent paper

4.5 x 3 x 0.25 in

miniature version edition of 10 copies

signed and numbered

20 singles sheets, unpaginated

ISBN : 0-9681193-1-X

$ 300 (only 1 copy still available)
To purchase the book My Memories of My Memories, please visit my SHOP
To PURCHASE Conversation, please visit my SHOP
Pour faire l'achat de Xtraction, s'il vous plaît visitez ma BOUTIQUE
My Memories of My Memories est une collection qui dresse un portrait de famille par l'image et déclenche des souvenirs d'enfance. La version miniature nous ramène à notre enfance quand nous avions les poches pleines de trésors et que nous les gardions pour les jours de pluie. Le grand format, unique en son genre, fait que les adultes se sentent très petits en regard de sa taille et ressemble à un album de famille.
une reliure à la bradel en imitation de cuir et lettrage de couleur or

impressions jet d'encre tirées sur papier Epson photographique; papier translucide

11,5 cm x 8 cm x 0,75 cm

version miniature édité en 10 exemplaires

signés et numérotés

20 feuilles simples, non paginées

ISBN : 0-9681193-1-X

300 $ (il en reste qu'un exemplaire)
Pour faire l'achat du livre My Memories of My Memories, s'il vous plaît visitez ma BOUTIQUE