© 2012 Louise Levergneux,
Desert Swatches
Desert Swatches is a survey of Utah's colourscape, the book makes it possible to explore a palette of colours from a desert region so different from other parts of the country.
endpapers and spine tab inkjet prints on Inkpress Matte paper
new oriental binding with brown book cloth over boards
unique
signed
6.125 x 7.5 x .75 inche
SOLD
Desert Swatches est une enquête du paysage couleur de l'Utah, le livre permet d'explorer une palette de couleurs d'une région du désert si différente d'autres parties du pays.
corps d'ouvrage, gardes et onglet d'épine : impressions jet d'encre tirées sur papier Inkpress mat
reliure nouvelle orientale avec une couverture carton passe-partout recouvert de toile à reliure brune
unique
signé
15,6 cm x 19 cm x 2 cm
VENDU
© 2011 Louise Levergneux, Ouest/West
OUEST-WEST represents the Wasatch Mountains throughout a 24 hour day, viewed from across the Salt Lake Valley close to the artist's home in South Jordan.
screw post binding with black cloth covered mat board
printed digitally on Inkpress paper
3.2 x 6.25 in
edition of 3 copies
signed and numbered
112 single pages, not paginated
SOLD
OUEST WEST représente les montagnes Wasatch pendant une période de 24 heures, vues du côté ouest de la vallée de Salt Lake City près de la maison de l'artiste à South Jordan.
couverture rigide recouverte de toile noire, feuillets maintenus par 2 rivets
impressions jet d'encre tirées sur papier Inkpress
8 x 16 cm
édité en 3 exemplaires
signés et numérotés
112 feuilles simples, non paginées
VENDU
© 2005 Louise Levergneux, impalpable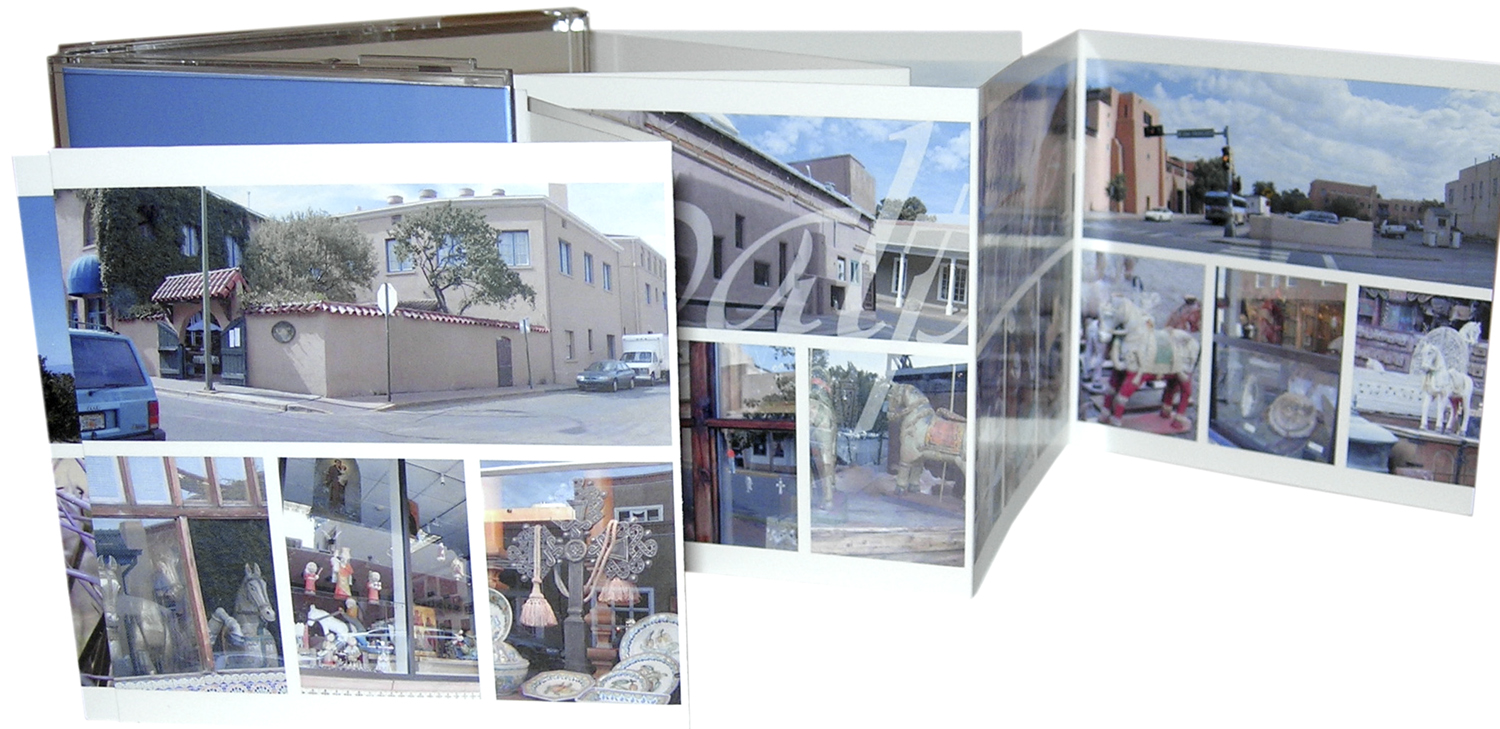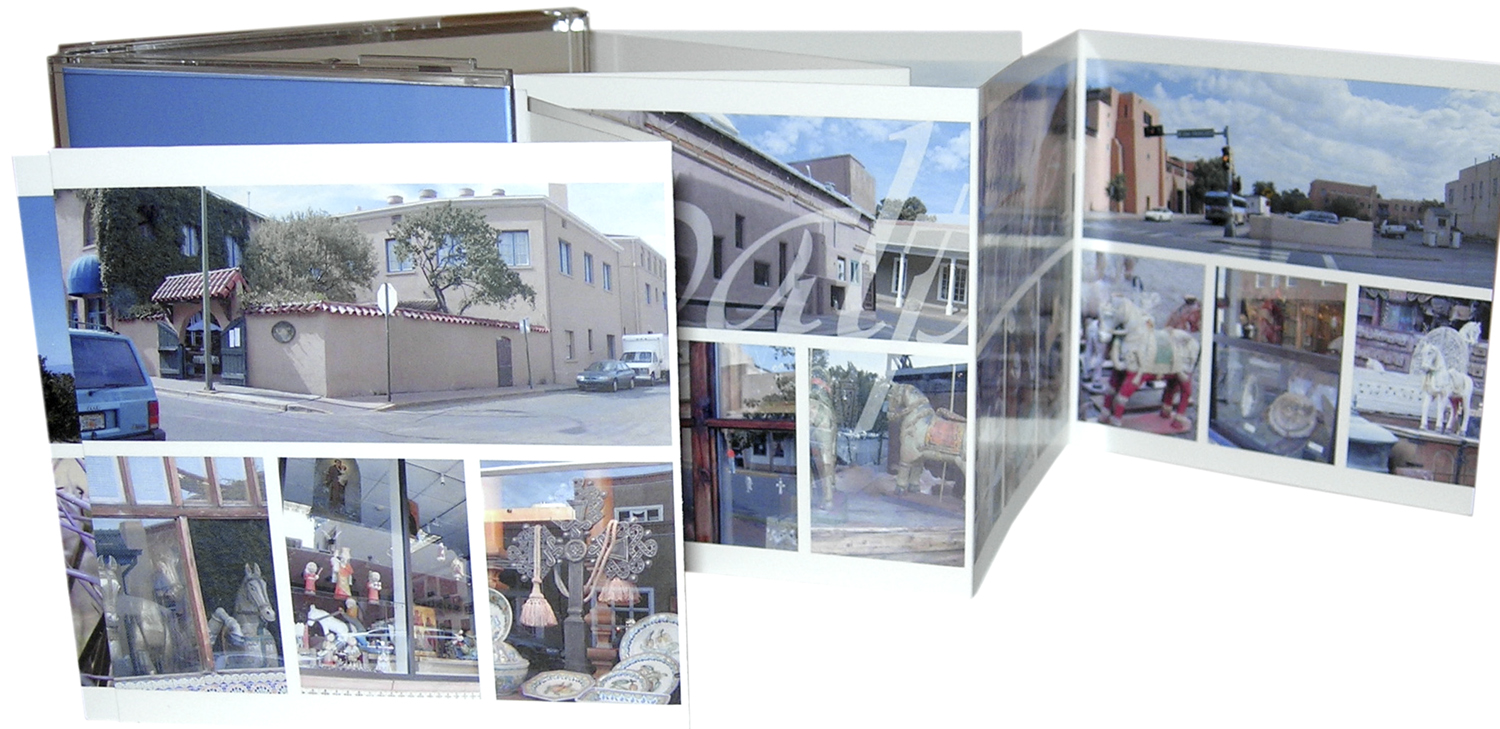 clear plastic jewel case with an inkjet

printed insert on paper

inkjet prints on Photo-Realistic Dual-Sided Semi-Gloss paper
4 x 4 x .5 inches
fold out pages opened: 3.75 x 18.75 each
edition of 10 copies
unsigned and unnumbered
2 double accordion sheets, unpaginated
SOLD
boitier en plastique transparent
impressions jet d'encre tirées sur papier Epson Photo-Realistic
10 cm x 10 cm x 1 cm, ouvert 47 cm
édité en 10 exemplaires
non signés et non numérotés
2 feuilles accordéon
ISBN : 0-9731958-5-1
VENDU
© 2000 Louise Levergneux, Seattle Visitée
I approache images, words and activities as integral components in my book object, making my visuals of life tangible. Any daily activity becomes a visual narrative – a personalised, autobiographical sketch.
spiral binding
inkjet prints on New Life Opaque paper, and Laser Hi-Tech paper
4.4 x 10 x .75 in
edition in 31 copies
numbered and signed
65 single sheets, unpaginated
ISBN : 0-9681193-3-6
SOLD
Louise Levergneux considère les images, les mots et les activités comme des éléments complètement intégrés dans ce livre-objet, rendant ses visions de la vie tangibles. Toute activité quotidienne devient une narration visuelle, une esquisse autobiographique et personnalisée.
reliure à spirale
impressions jet d'encre tirées sur papier Nouvelle Vie opaque et sur papier Laser Hi-Tech
11 cm x 25 cm x 1,5 cm
édité en 31 exemplaires
signés et numérotés
65 feuilles simples, non paginées
ISBN : 0-9681193-3-6
VENDU
© 2000 Louise Levergneux, 1234567 violette
hard cardboard binding
inkjet prints on Epson Photo paper mounted on Domtar Fusion tag board
5.75 x 8 x 1.25 in
7 double sheets, unpaginated
ISBN: 0-9681193-6-0
SOLD
reliure en carton raide
impressions jet d'encre tirées sur papier Epson photographique, ensuite montées sur carton de montage Domtar Fusion
14,5 cm x 20,5 cm x 3 cm
7 feuilles doubles, non paginées
ISBN : 0-9681193-6-0
VENDU
© 2003-1999 Louise Levergneux, Mémoires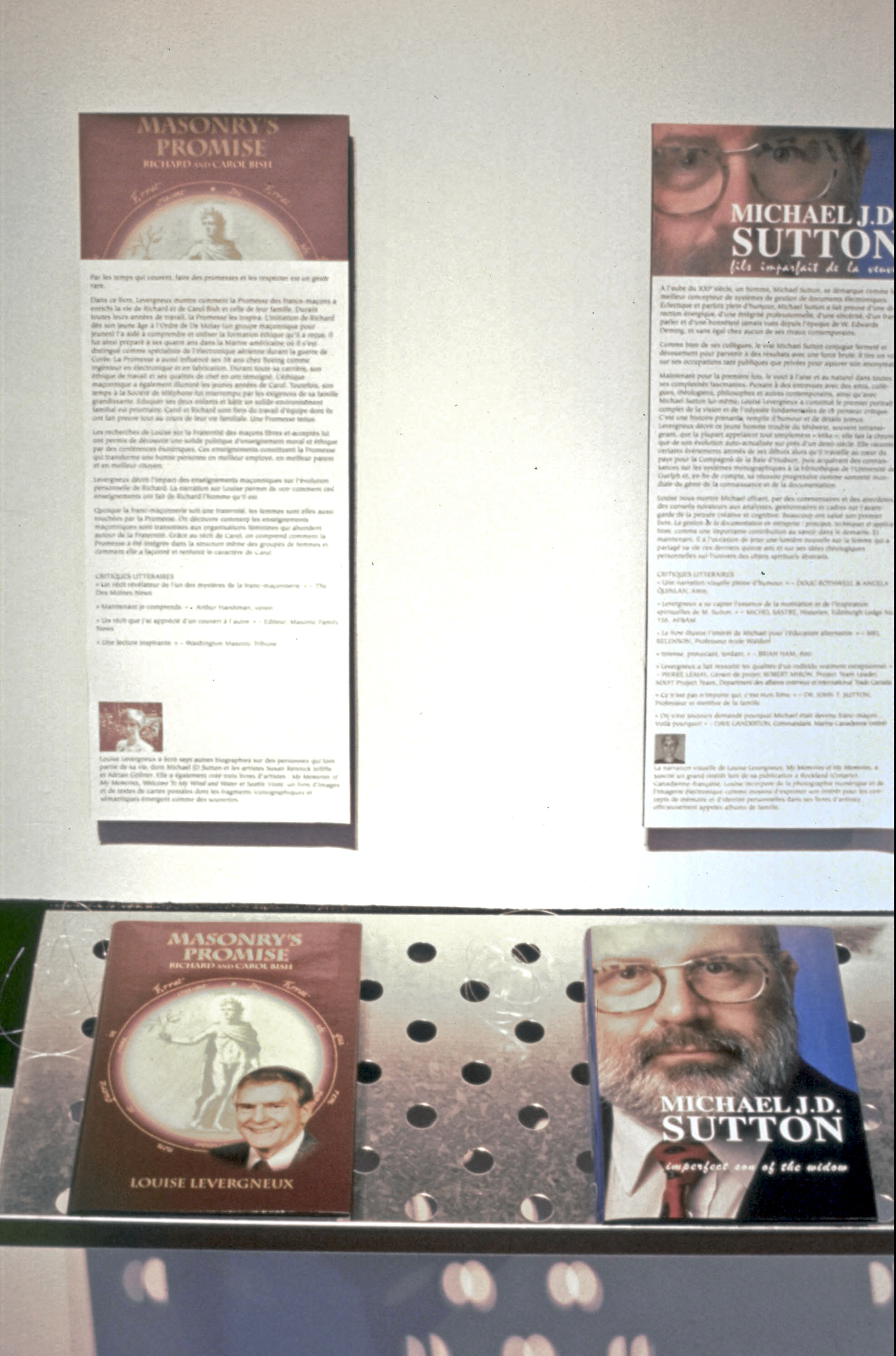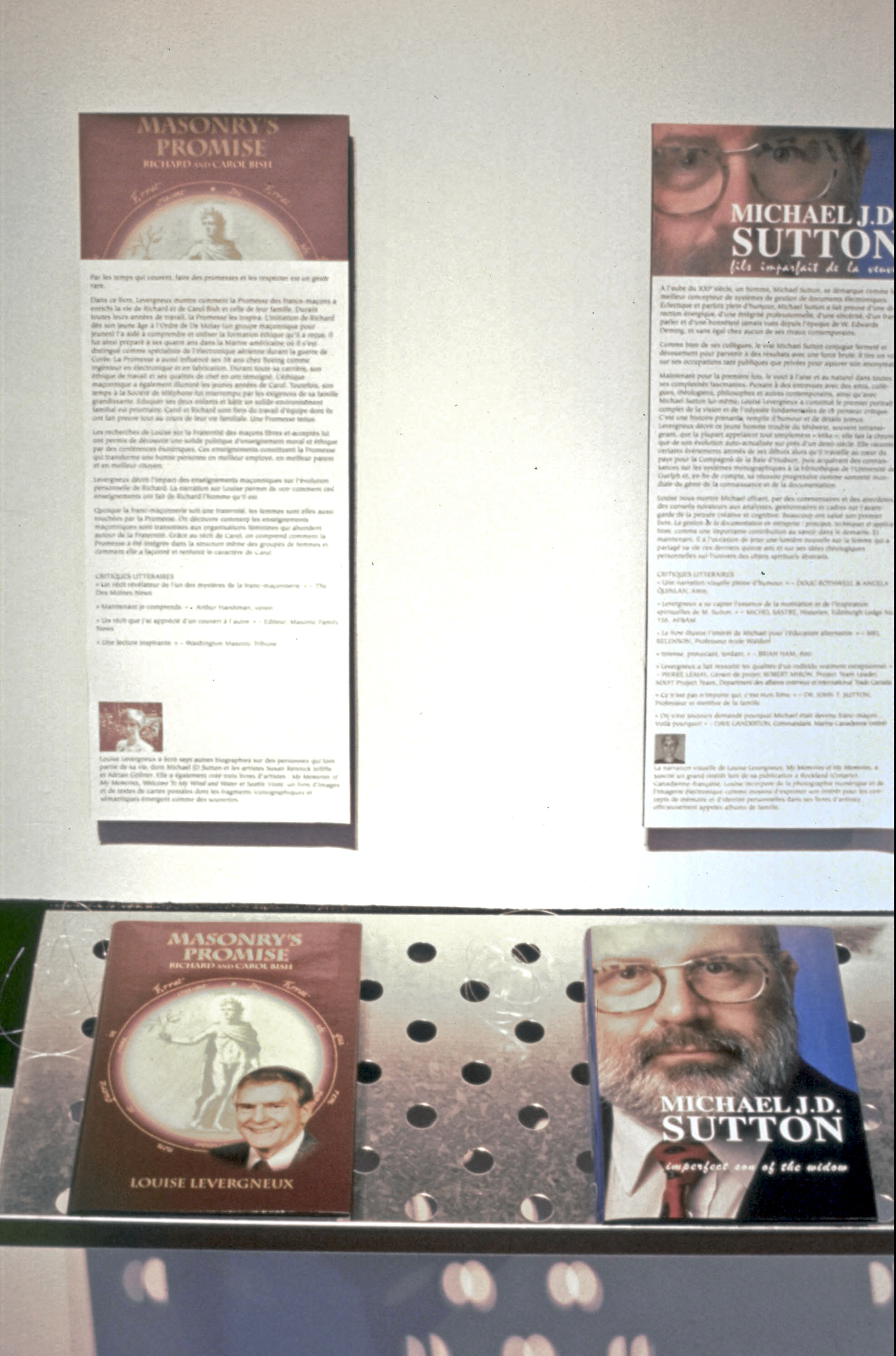 Resembling the celebrity biography genre books that expands on the relationship between a person's present and past.
hard cover case-binding with black linen cloth and Smythe-sewn
each book is covered with a laminated dust jacket, inkjet prints on photo paper
9.5 x 6.5 x 1.375 in
dust jacket flat 9.5 x 22.25 in
open edition up to 8 copies per book
18 dust jackets
unsigned and unnumbered
SOLD
Mémoires conçu comme genre de biographies de célébrités qui concernent la relation entre une personne son présent et son passé.
reliure de type emboîtage à la bradel en drap de lin noir
chaque livre est recouvert d'une jaquette laminée et impressions jet d'encre tirées sur papier photographique
23,5 cm x 17 cm x 3,5 cm
jaquette ouverte : 23,5 cm x 56 cm
édition ouverte jusqu'a 8 exemplaires de chaque livre
18 jaquettes
non signés et non numérotés
VENDU